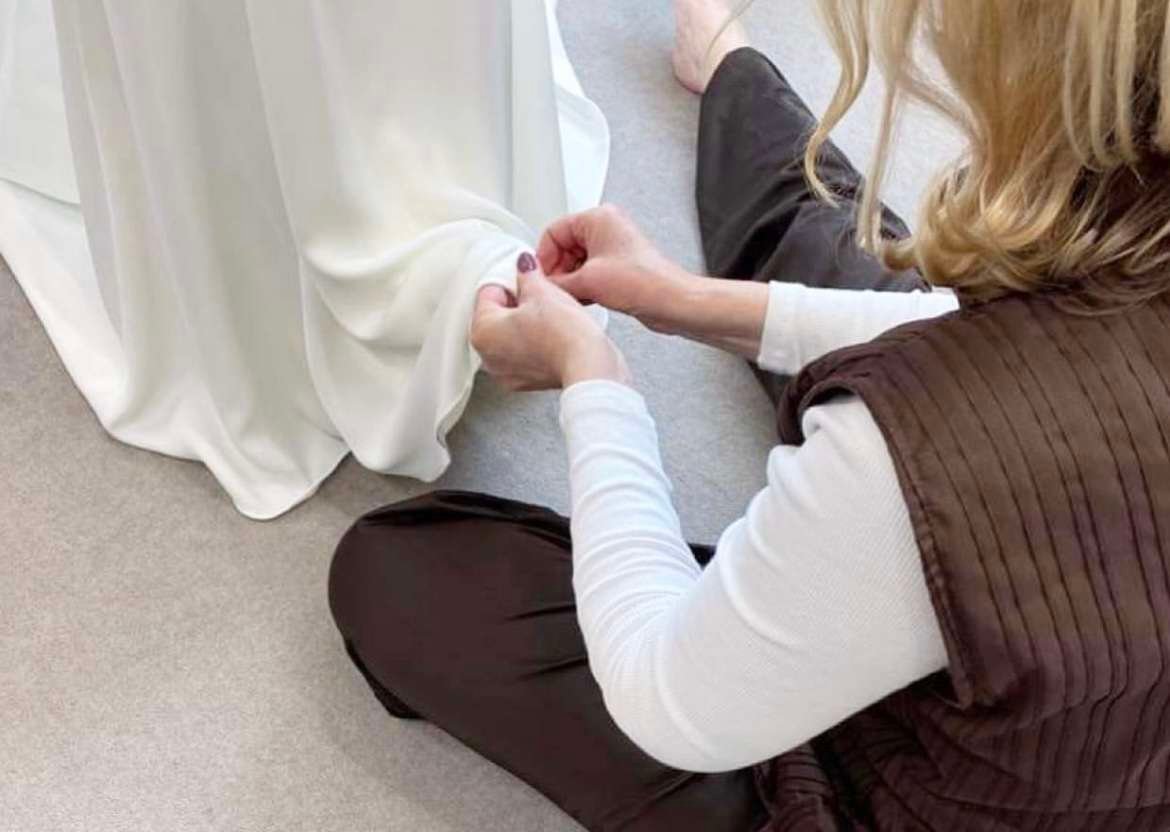 You've said yes to the dress & you've managed that long old wait for YOUR dress to be delivered. It's here, you've tried it on & you've taken it home … now what? You probably have a handful more questions whizzing through your brain.
Before we get stuck into the nitty gritty of bridal alterations, here's our top tips for how to care for your dress in between collection & your alterations.
Keep the dress hung up in its dress bag.
Preferably hung in a full-length cupboard, but don't worry if not it will be just fine.
Don't worry about it creasing, it will get a fresh steam once the alterations are all done.
If you take it out the dress bag at any point, ensure you keep your hand on the inside of the zip as you unzip it to prevent any of the dress getting caught.
First thing it's important to note, dresses are ordered in in the designer's closest size to your measurements but are not made to measure. So almost always require a few adjustments to get the perfect fit, even if its just the length!
This is where our wonderful seamstress Belinda comes in, or at least that's where we recommend Belinda comes in, she's been altering wedding dressing for 30 years & she's pretty damn good!
We recently reached out via Instagram to find out you all wanted to know about the alterations process & we then sat down with Belinda over a quick cuppa to ask her all your burning questions!
Here's what Belinda said…
How long prior to the wedding should I come for my first alterations appointment?
About 6 weeks. If you're getting married in busy wedding period (July/October) we may advise 8 weeks before, so have 6-8 weeks in mind & you'll be just right.
How many fittings will I need?
Usually, you will only require 2 fitting appointments. So, 1 for the initial fitting & then 1 final fitting to ensure it's all okay & to collect your dress. Sometime for more complex alterations it can require an extra one, but usually just the 2 appointments.
What happens if I have gained/lost weight since my dress collecting my dress?
Try & ensure you are at a steady weight before you begin your alterations. Obviously if you lose/gain weight after your alterations have started, you'll be needing to alter it again to get the right fit. So don't worry about any weight changes in between ordering/collecting & coming for your fitting, a few pounds either way is no problem to adjust, just ensure you're where you want to be & at a steady before you begin your fittings (6-8 weeks prior).
Do I need to have found my wedding shoes before having my alterations?
Yes, this is an important one. I'll adjust the length of your dress based on the height of the shoes you are wearing, so its important you bring these with you so we can get the correct length.
What do I need to bring with me to my fitting?
All you need to bring with you is your shoes. As above, this is just so that we know we are altering the length to the correct height of shoes whether that be a heel or a flat. But you are more than welcome to bring any other accessories along as it's a good opportunity if you want to see the whole look all together – just let me know if you would like to do this so I can allow extra time.
Can I keep the off cuts from my dress?
Yes of course you can – Just make sure you let me know in advance, so I know to keep them to one side for you!
Do you also do bridesmaids and/or mother of the bride alterations?
Yes, absolutely no problem. Just let me know when we book you in how many fittings, we are doing so that I can ensure we allow enough time, but yes, I can do any other wedding party alterations too.
Do I come back to Brides of Bakewell for my fittings?
Yes, I will meet you at the shop & do you your fittings there. However, I am Sheffield based, so if it is ever more convenient for you to come to me rather than the shop then that's no problem either.
If you still have any alterations questions just let us know & as ever, we will be more than happy to help.
Ali, Molly & Belinda x