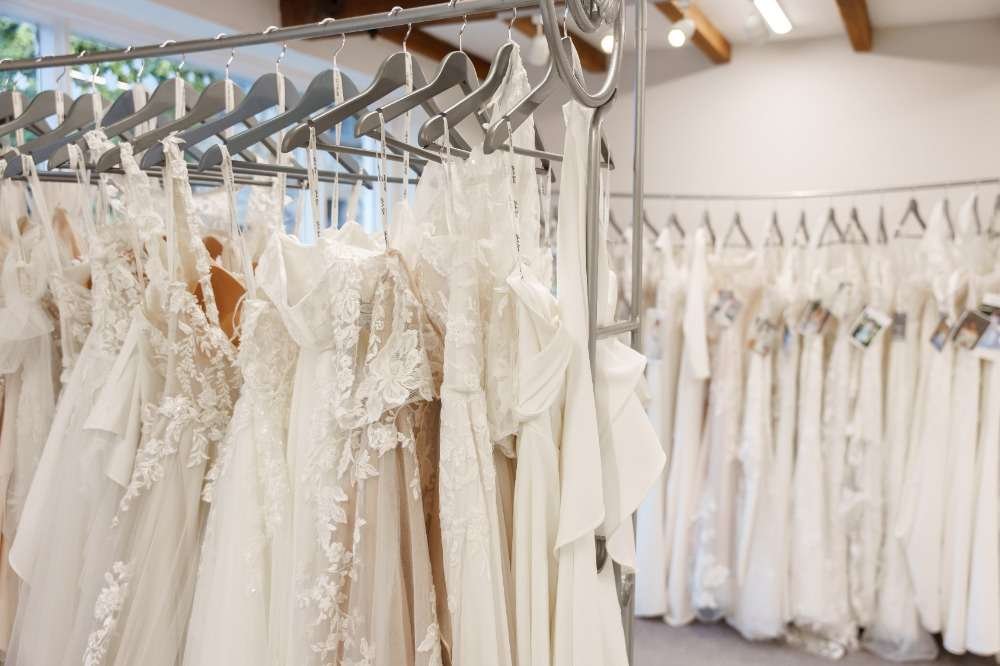 From chiffon to satin, lace to crepe… as soon as you step into the world of wedding dress shopping you will quickly realise there are so many fabric options to choose from. You are probably wondering what they all are for a start, what makes them all different & whether some are better suited to certain silhouettes than others.
Let us bring you up to speed on wedding dress fabrics & our current favourite style for each…
Chiffon – Let's start with Chiffon. Its lightweight, sheer, SO feminine & often used to create soft, floaty, boho silhouettes. Its not as heavy as most other bridal fabrics making it a popular choice for summer weddings or beach weddings. Its also not too clingy so brides find it a comfortable option! If you're looking for something fitted, or ball gown style skirt with lots a volume – chiffon isn't the one for you as it's so lightweight it doesn't hold much structure.Our favourite chiffon wedding dress at the moment is Morilee 15026, it's the epitome of a chiffon wedding dress. A relaxed, floaty, soft A-line style with a deep V back, detachable sleeves & serious leg split.
Morilee 15026 – Brides of Bakewell
Satin – Satin really is having a moment right now. You love it, we love it, everyone loves it. Satin wedding dresses tend to be heavier, so you probably aren't taking this one to your beach wedding. But the weight of the satin fabric makes it so forgiving & flattering to wear. You will often find pockets hidden in a satin ballgown because it's the only fabric that can hide a pocket in a bridal gown, you'd be amazed at the excitement we get from brides when they realise their dress has pockets! Whether it be a fitted silhouette or a classic A-line, satin works for both giving you a timeless yet modern look… which leads us to our Satin choice, Stella York 7711. Clean lines, strapless , full skirt & a dramatic back, need we say anymore?
Stella York 7711 – Brides of Bakewell
Lace –Ok, Lace, we've all heard of lace. When you think wedding dress, you think lace, its an absolute classic when it comes to bridal & we can't help but love it. Whether it be a bold modern lace, or a traditional romantic floral lace, the choice is vast. Lace is feminine, flattering & works with so many different silhouettes. Stella York 7752 is our lace pick and you really need to take a look at this one because forget what you think you know about lace, this one's modern, contemporary & so on trend.
Stella York 7752 – Brides of Bakewell
Crepe – Just like satin, crepe is currently having a moment. Simple, 'less is more' style wedding dresses are such a trend at the minute & both satin and crepe work perfectly with this. If you don't like the shiny look of satin, then look at crepe. Crepe wedding dresses are matte & have some stretch which make them some of the softest & most comfortable wedding dresses there are. Crepe works amazingly for fitted, figure hugging styles as well as softer A-lines. With autumn weddings on the rise, our current favourite crepe wedding dress is Morilee 6973. If you grew up in the twilight era, you will know what I mean when I reference Bella Swan's wedding dress, this dress is exactly that: plain front, sleeves & a lace illusion back to die for.
Morilee 6973 – Brides of Bakewell
Tulle – Tulle you will recognise as the one which looks similar to a netting. You can get tulle in different weights but typically it's a soft, lightweight fabric that is great for adding volume or texture. It's often used as a base for lace appliques, illusion sleeves, sheer panels or unlined bodices. If you're not wanting anything too heavy, tulle will be your friend. Stella York 7573 puts all of the above into one to bring you possibly the most whimsical, romantic wedding dress you've ever seen.
Stella York 7573 – Brides of Bakewell
Organza – Ruffles are back & if you're going to go for it, you want to try organza. Sheer like a chiffon but with much more structure & a little bit of a shimmer, organza is perfect for adding volume & texture. If you are after that fairytale, princess style dress look no further than Stella York 7729 – a luxe satin bodice fitted to the waist with layers of falling organza ruffles to create a full skirt, we've been told this one makes you feel "fabulous".
Stella York 7729 – Brides of Bakewell
That's a whistle stop tour & as ever, our advice if you're just setting out on the journey to find you wedding dress is to try a bit of everything! You never really know until you've had a dress on – you might be surprised!
Any questions just call us on 07493984198, message us on Facebook or Instagram or email us at ali@bridesofbakewell.com
Ali & Molly x