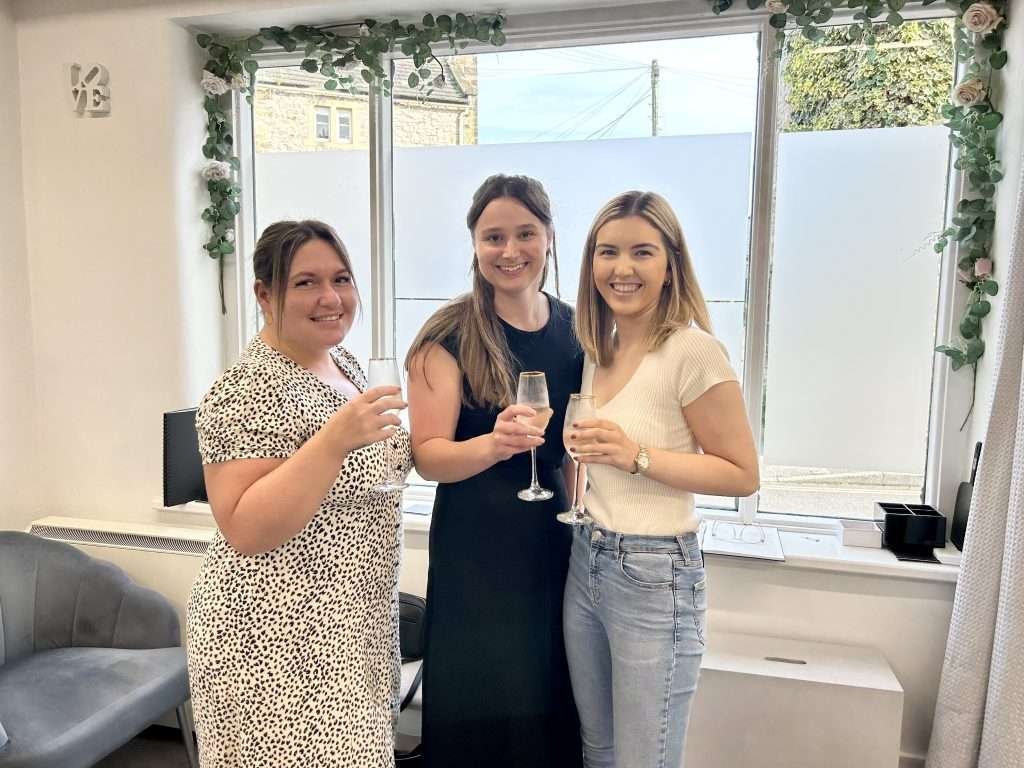 If you're reading this as the bride…
We know it can be SO hard knowing who & how many to bring along to your bridal appointment. We completely get it, there's lots of people who you love & want to involve in the experience.
Our general advice is to bring no more than 3 people with you. We're not overly strict with it, if you have 4 or 5 just be sure to let us know in advance & we can make sure we make enough room for you all. Aside from space, brides often find when the bring more than 3 it can be too many opinions & actually make the process harder. Bear in mind, you can always pick your dress with fewer people & bring the others along to another appointment once you have picked the one to show them.
Hopefully this blog will help you work out who you need to bring to get the best out of your appointment, what is helpful & what is not!
If you're reading this as the entourage…
The bride has chosen you to come because they love you, value your opinion & want you to be part of their wedding planning journey. We cannot wait to have you in the shop, the entourage bring so much fun to an appointment, we love getting to know you all & having a good old chit chat!
We also know that you want to be able to support the bride as best as you can & make the dress finding experience as smooth as possible whilst also being enjoyable and memorable.
Therefore, we have reached out to lots of our previous brides to give us their opinions on what they found most helpful from their bride tribe so we can pass the knowledge on to you! Here's what they said…
1. The bride goes FIRST
First things first, let the bride have her say & form her own opinion of the dress before any sort of criticism is given.
2. Make sure honesty is met with kindness
Shopping for your wedding dress, isn't like any other shopping experience. We often find brides come feeling nervous or apprehensive. So, if the bride has brought you along as the "honest friend" please ensure your honesty is delivered with kindness & sensitivity. The bride will of course want your opinion just to be sure to give it at the right times & in the right way in order to be most helpful.
3. Compliments, compliments, compliments
Give ALL the compliments. Don't focus on the negatives & don't call out the bride's body hang ups. i.e "that makes you look broad", "that makes you look hippy". There will be something positive about each dress even if its not THE one. Ie "that neckline suits you", "that fabric is lovely"
4. You are team bride
Remember you are here for them. The brides favourite dress may not be your favourite dress, but if they love it, that's what counts. Be led by the bride, its about how they FEEL in a dress.
5. There's no rush
Sometimes when the bride tries a dress, it can take a moment for them to take it all in & process how they feel! Especially when it's the very first dress they've ever tried. Even if the bride dislikes that particular dress, it's important for us to understand what it is about it that they aren't liking so that we are able to narrow down what the bride is after.
6. Trust us
We know our stock inside & out. When you first arrive, you can support the bride in picking out some initial choices to try on. This gives us a starting point but once the bride has tried a few dresses on, please leave it to us to help the bride navigate through the choices. You get to sit back & relax with a glass of fizz.
7. Photos
IF the bride wants a photo of "The One", ensure you have someone who can do it justice, we often recommend little videos instead of photos. No number of photos on phones will do the dress justice like on the day, but we understand that it can be helpful to have a reminder.
Some brides don't want a photo at all, it can be too much temptation to show people or to look at it constantly – that's fine!
8. Keep the energy up
As we go through the appointment, keep the energy & the excitement up! We love to have a laugh with you all and want to make sure the whole experience is enjoyable from start to finish! Let's have fun with it.
9. Make an occasion of it
Bakewell is full of gorgeous spots to celebrate over an afternoon tea or pub lunch, the bride will be ready for a sit down and a debrief after all the excitement of choosing her dress! Its such a fab opportunity to be together, so milk it!
10. Enjoy it!
Its not very often you get to experience this so enjoy every second! Once it's all passed, you'll be desperate to do it all again.
Hopefully whether you have read this blog as the bride or the bridal party, you have found it helpful. If you have any other questions for us, we are always here to help & advise.
Ali & Molly x