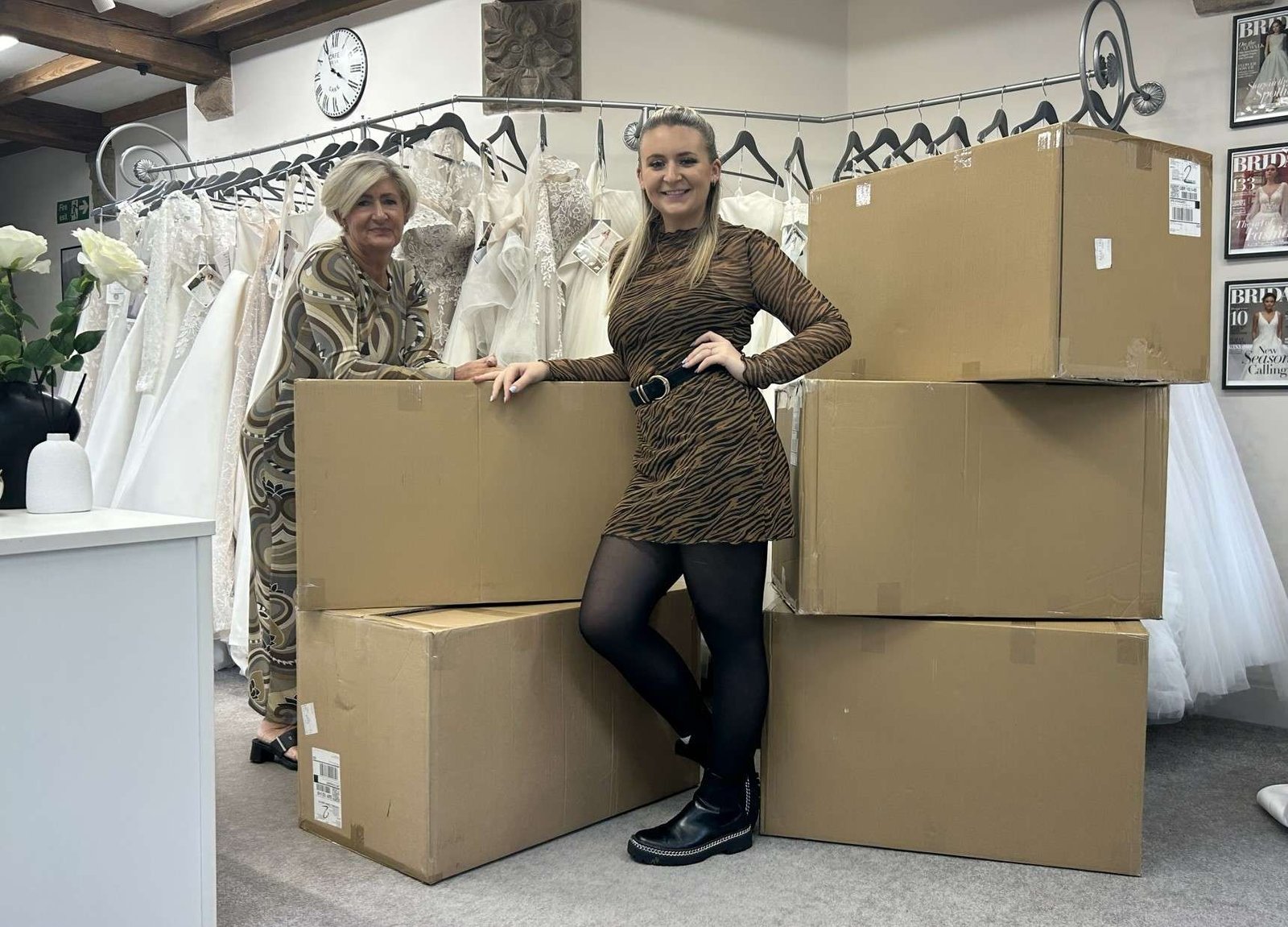 If you follow along with our socials, which we hope you do, you will be aware that this past weekend we hosted a Stella York Designer Weekend, A.K.A – A Trunk Show.
If you haven't read our previous blogs, you might be wondering what on earth a trunk show is. Essentially, we get an additional 20 Stella York dresses delivered into the shop for one weekend only! We LOVE Trunk Show Weekends! Aside from having all the extra dresses to choose from, we always offer some sort of treat and this time it was £100 discount off any Stella York dress ordered. This means the shop gets busy & has an extra little buzz all weekend with brides wanting to make the most of the offer while it's there!
We're as flexible as possible with our appointment times anyway, if you want an evening appointment, no problem. First thing Sunday morning, no problem. Our opening times are very much just a steer & we always say to let us know if you can't see a time on our booking system that suits you. However, for a designer weekend we already know it's going to be a busy one so we opened our calendar up to every eventuality from the get go!
If you'd seen the shop on Thursday, you'd have thought a lace & glitter bomb had gone off! 5 HUGE boxes arrive & it's all go go go to get them unpacked, steamed, tagged up & switch all the hangers over to match ours, call it OCD but the idea of mismatched hangers in the shop is a no no! Once they're all on the rails, this is our opportunity for a good old try on of all the new dresses – it just has to be done, what can we say?
Friday, the first 'real' day of the event, we had to start the day fuelled by cake from our lovely neighbours at Tansy Hair & Beauty who were hosting a Macmillan coffee morning & it was a long day so was definitely needed! We had appointments on Friday right through into the evening which is something our brides seem to be loving at the moment & honestly so do we! Evening appointments always have such a fun vibe, the prosecco comes out (as usual) and you can roll right on for some celebration drinks or a nice tea when you're done!
Saturday started bright and early with our first bride who braved the 8am slot! We then ran back-to-back right through to 6pm, this is when we LOVE being a team of two – one can keep the shop looking presentable whilst the other is fully committed to our bride. Although we must admit, whichever one of us is tidying can never help but keep popping in for chit chats & sneaky peeks, especially if we hear little squeals of excitement!
I would hate for you all to be under the impression that we need cake to get through a day, but when we found a spare 5 minutes, we did sneak out to Cake Corner. I was after 2 of their mini treat boxes as gifts (£5 each – bargain!) but of course we needed something for ourselves too so we shared a caramel slice & I tell you this because if you find yourself in Bakewell any time soon you must go & pay them a visit because that caramel slice was to die for!
Bakewell is sleepy on a Sunday morning, especially a rainy one, but lovely all the same. And just like Saturday, Sunday was full of back-to-back appointments with lovely brides & bridesmaids too!
Today is Monday & sadly the last day of having the extra Stella York dresses on our rails! We have a couple more appointments in and then it'll be an evening of getting the dresses boxed back up ready for collection first thing Tuesday morning when off they go onto their next destination! Though we'll be sad to see the extras go, we still have around 80 stunning dresses that will be glad of a little extra breathing space on the rails!
Thank you to all the brides & their loved ones who joined us this weekend & helped make it such a fab event. We have plenty of ideas for other event weekends for brides & bridesmaids, so be sure to keep your eyes out for more…!
Ali & Molly x