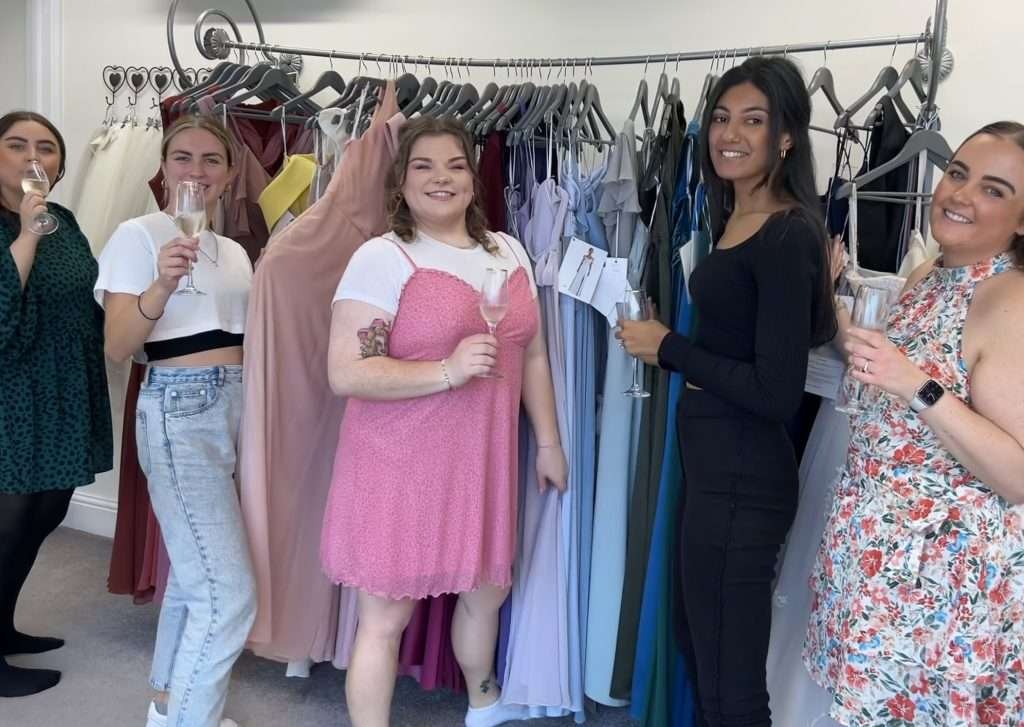 One word, 'Bridesmaids'. We love them!
Bridesmaid appointments always have SUCH a fun energy about them, a couple of hours of trying gorgeous dresses on with your favourite girls, how could it not be fun?! And also, as the bride, you have done your bit of trying on & now it's your chance to sit back with a glass of fizz while your girls do all the trying – they'll get a glass of fizz too don't worry!
Our first piece of advice when it comes to bridesmaids would be to leave yourself enough time, we suggest 6 months in advance of the wedding. Our bridesmaid dresses take around 2/3 months to arrive & you need to allow time for alterations (usually just the hems, don't panic!), PLUS you don't want to feel rushed when making the decision, so giving yourself time is key.
We are very proud to stock Dessy bridesmaid dresses & although you could say we're biased, we really do believe that they are the best. The quality is unlike anything you will find on the high street or online & there really isn't a colour that you won't find available in Dessy. For Ali's wedding earlier this year we wore Dessy (pic below) and I can absolutely say firsthand how comfortable yet stunning they felt to wear all day – My bridesmaids will certainly be wearing Dessy too!
We have around 60 different styles available in the shop to try & these are in a range of sizes between 8-24 & we can place orders for your bridesmaids in sizes 00-32. As with bridal appointments, we have lots of tricks to fit dresses that are too big or too small to ensure you can picture how the dress would look in the right size.
Our samples also cover about 50 of the various colours available, we have the full swatch book of colours on hand & we also have a range of styles available across the different fabrics. There are many more styles available to view on the Dessy website which we can place orders for, if we don't have a specific one you have spotted. And don't worry if we haven't the exact dress you've seen, we will have something close enough for you to get a really good idea & be able to pick the dress you love.
When it comes to choosing your bridesmaid dresses, here's a few key things to consider.
Your bridesmaids
This may seem obvious but…more often than not, groups of bridesmaids consist of different heights, shapes & sizes and of course you want them ALL to feel comfortable in their dresses on the day. Which leads us to one of our favourite things about Dessy, they have SO many different styles you are bound to find one that either suits all your bridesmaids, or you can mix & match the styles while ensuring they all still complement eachother perfectly.

Dessy offers well over 100 different colours & shades. From champagnes & greys all the way through to deep greens & blues. What ever colour you are after, Dessy will have it.
You can see the full selection of colours here: The Dessy Group
Another thing to mention with colours, is Dessy also provide matching ties, pocket squares, flower girl dresses etc, so if you are after the perfect colour match across the whole wedding party, be sure to look at Dessy!
Some bridal parties come in already knowing exactly what colour they want & some come in and work it out whilst they're here. Whichever you are is absolutely fine!
Some brides like to choose the colour first, some brides may choose the fabric first – either is okay! Fabrics, such as chiffon have a bigger selection of colours than the velvet for example, but don't worry – there's still LOTS of velvet colours too. Fabric choice plays a part in how comfortable your bridesmaids feel in their dresses, we all know a super sleek satin can be harder on the tum!
The brand Dessy really does lend itself perfectly to mixing & matching your bridesmaid dresses & there are two particular ways in which we recommend doing so to get that seamless look.
Same fabric, different dresses – This is a great way to ensure all your bridesmaids feel comfortable in their dresses while still all looking like your bridesmaids. So, for example, all bridesmaids in chiffon dresses but with different necklines to suit them all individually.
Same dress, different colours – This way is a really good way of bringing multiple colours into your wedding palette or of tying your wedding colours together. One of our recent brides, Rebecca, perfected the same dress, different colour trend by mixing & matching olive green, cameo (which is a champagne tone) & amber sunset (a burnt orange tone). See below, I am sure you will agree how stunning this looks.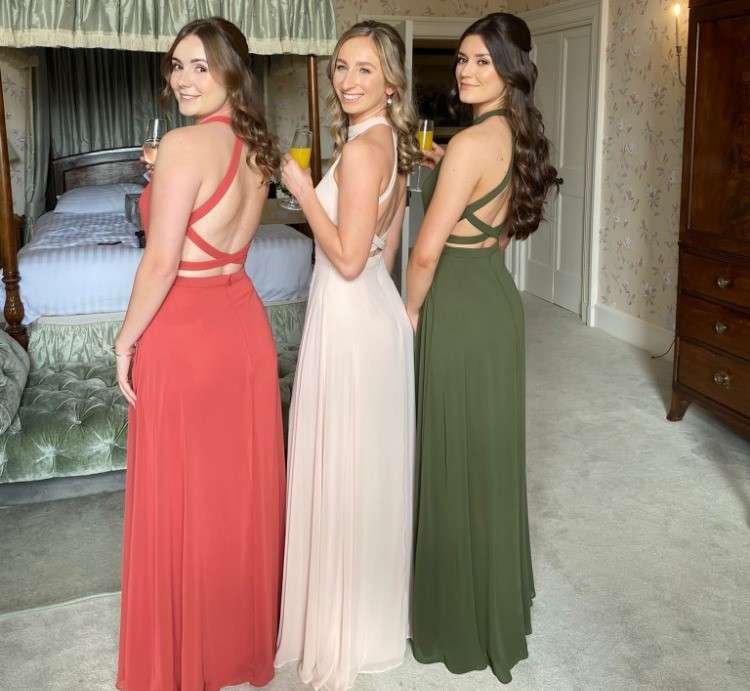 Prices of the Dessy Bridesmaid dresses start at £195 & don't forget, we offer 10% off the price when you have also purchased your wedding dress from us or if you have 5 or more bridesmaids. You get what you pay for here, the quality of the dresses is fabulous & bridesmaids always tell us they loved wearing their Dessy dress!
Book your bridesmaid appointment exactly the same way as you would your bridal appointment by either using our online booking system, giving us a call or sending us a direct message on Facebook or Instagram. If you have any questions at all, you know where we are.
Ali & Molly x