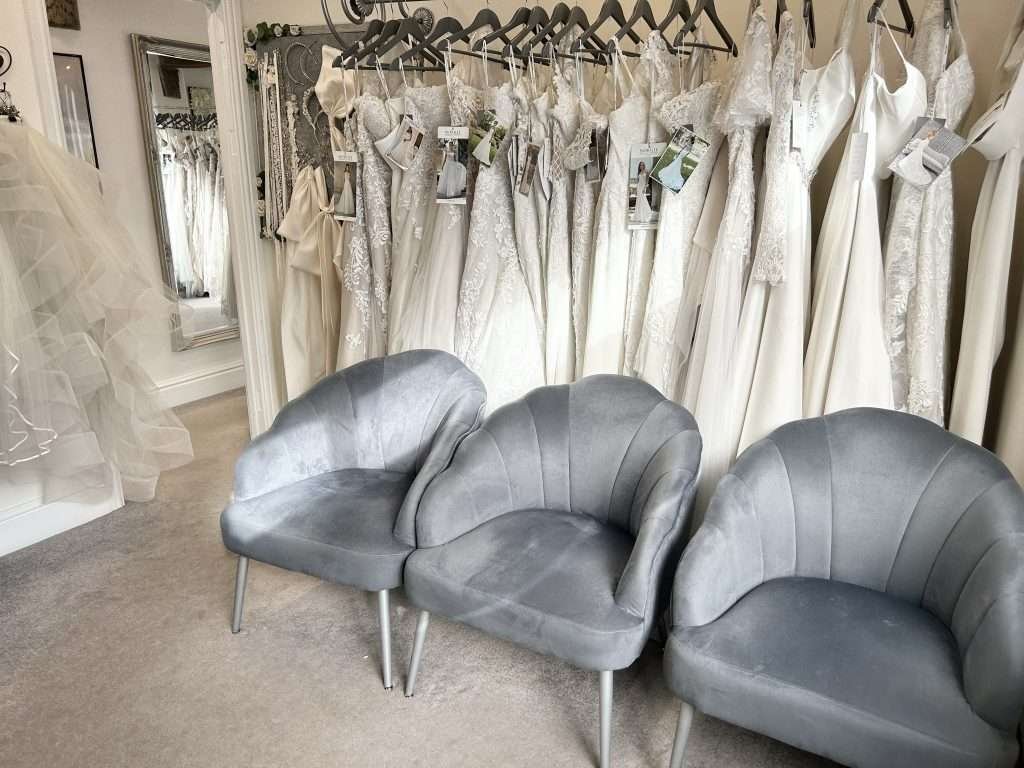 Feeling nervous? DON'T BE!
We get SO many brides coming through our doors telling us they're nervous, we completely get it, it's a totally different way of shopping than what you are used to.
Perhaps you're concerned nothing with fit? Don't be, we stock samples in sizes 8 to 24 & we have many tricks to make dresses fit even when they aren't in your size. We can places orders on dresses in size 4-32.
Maybe you're not sure you'll find anything that suits you? You absolutely will! We have seen every single dress on our rails look amazing on someone! You wouldn't believe how different the dresses look on the model photos, to the hanger, to on different bodies. Therefore, we always advise you try a little bit of everything & we work out together what you are liking and not liking. There's a dress for everyone – we're here to help you find it.
Stressing about who to bring with you? LESS IS MORE! Especially if this is your first appointment, bring a couple of loved ones whose opinions you appreciate, but also who will allow you to form your own opinion first. We know its lovely to include others but it's how YOU feel that matters most. Once you have chosen your dress, you are very welcome to come back with more guests, share a glass of bubbly & celebrate your choice with them. They'll love your dress & enjoy the celebration!
What underwear should I wear? At this point, it really does not matter, wear whatever you are most comfortable in! Don't feel the need to go out buying expensive magic pants that go down to your knees, its really not necessary! As a steer, any nude/white underwear will be just fine, but seriously don't waste any time stressing about this.
For a whistlestop tour of how we like to do things, keep reading..

When you first arrive, we'll take your coats, get you a drink (whether that be coffee or a prosecco at 10am – anything goes at your bridal appointment) & we'll give you a moment to chill while we chat about your wedding plans and any ideas you have in mind about your dress. If you have NO idea what kind of dress you want, that's absolutely fine too. We LOVE a blank canvas!

Then the fun starts, we will give you the opportunity to have a little browse of our rails armed with a bowl of pegs so you can pop a peg on the ones you'd like to try. This is just a starting point for us, as soon as you've had a couple of dresses on & tell us what you are liking and not liking, we can take it from there as we know our stock inside & out, so can pull some great options for you. If you don't like something about a dress, SAY IT! Its helpful to know what you don't like & you will never offend us by doing so!
One by one we will work through the dresses until we find something you LOVE. If you have a favourite, we can try this back on as many times as you like, when you find yourself going back to one dress, that's usually the one!
Once you think you've found it we also have a whole array of veils & accessories on hand to try so that you can finish off your perfect bridal look.
When you have said 'yes to the dress', we will take your measurements & work out the best size to order for you, this is done by lining up your measurements with the size chart of the relevant designer to your dress. Do not worry yourself with the size, they are wildly different to high street sizes & also different from one designer to the next – all that matters is we get the best fit for you.
We then take a 50% deposit before you leave which allows us to place your order (alternatively, you may have fallen in love with a sample sale dress, in which case you take it home the very same day!).
And that's it! Your bridal shopping experience is done! As soon as you have tried on that first dress your nerves will vanish & you will be left with nothing but excitement. By the time you're back in your usual clothes you will want to hit rewind and relive it all.
4-6 months later YOUR dress will arrive, we will give it a good steam and check it over for any imperfections, once were happy we'll let you know & arrange an appointment for you to come back and try it on. You will be amazed how quickly this comes around and it is always SO exciting when it's your dress in your size! You then pay the remaining 50% balance and take your dress home with you, until its time for your alterations 6-8 weeks before your big day! We have a blog coming soon dedicated to all things alterations, so keep an eye out for that one!
If there's anything else you're unsure of, you can see our FAQs via the below link or you can of course message us or call us at any time & we will be happy to help.
FAQs – Brides of Bakewell
Ali & Molly x